Algon Path, Patio & Deck Cleaner
Algon Organic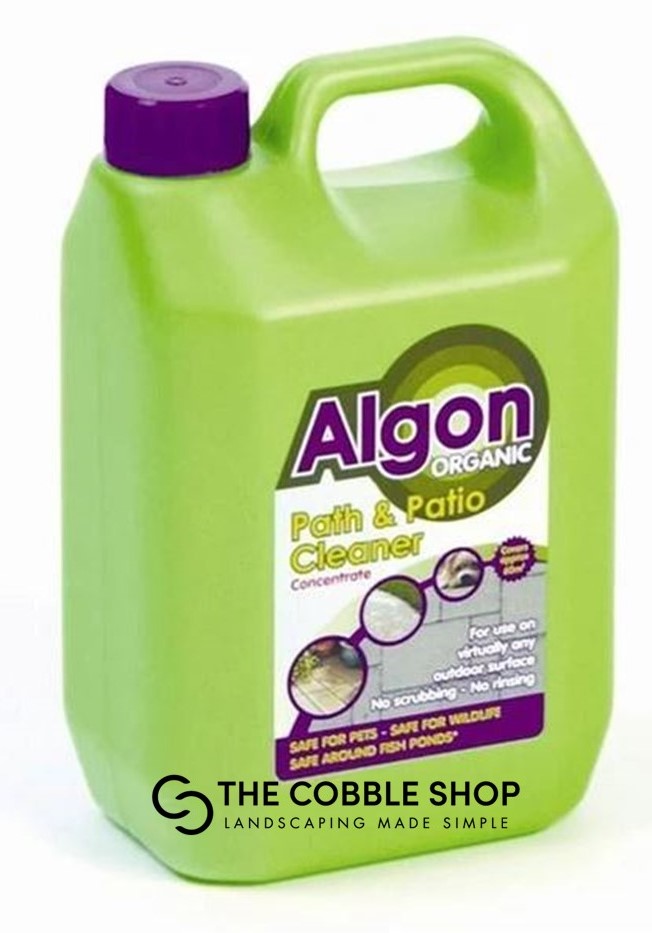 Struggling to find a cleaner that is easy to use, doesn't need to be scrubbed in or rinsed off? Algon Organic is the solution! Algon helps to restore the natural colour of virtually any outdoor surface the organic way. No scrubbing or rinsing required. Simply apply and walk away.
Algon is available to buy in 2.5 lire bottles on our website – https://thecobbleshop.co.uk/product/algon-organic/
How To Use Algon Organic
Algon Organic Path, Patio & Deck Cleaner may be used any time of year. Best results are achieved when Algon is applied to a dry surface when rain is not expected.
It is recommended that if using the concentrated solution, it should be diluted to 1 part Algon to 3 parts water.
Algon can be applied using –
A garden sprayer on droplet setting
Soft broom or paintbrush wetting the surface evenly
Watering can (can be wasteful)
There is no need to rinse off later. Simply apply and walk away. Results will start to show within a few days as the applied surface begins to regain it's natural colour. The results will last approximately 9 months to 1 year, however this does depend on the absorbency of the material being treated, its location and the weather conditions.
Where Can Algon Organic
This organic patio, path and deck cleaner can be used in a lot of places! –
At home 
Tarmacadam Driveways
Patio Flags
Decking
Conservatories (glass or plastic, slate and felt roofs – painted or not)
In the garden 
Wood & Concrete Fencing
Stone Walls
Garden Sheds
Greenhouses
Statues
Plant Pots
Pebbles
Garden Furniture
Canopies & Fabric
Water Features 
Ornamental Water Features
Bird Baths
*A small amount of Algon entering a pond will not harm fish or plant life, however, care should always be taken to keep run-off to a minimum when working around ponds.
Sports & Public Areas
Astroturf or similar
Artificial Grass
All Weather Tennis Courts
Hard Play Areas
Access Ramps
Car Parks
Animal Areas
Kennels
Stables
Farmyards
Algon can be used on a wide range of products we sell here at The Cobble Shop, why not check out everything we have to offer from decorative and building aggregates to paving supplies –  https://thecobbleshop.co.uk/
How Much Does One Bottle Cover?
One bottle of Algon will cover approximately 60 square meters if mixed to the diluting instructions.
Diluting Instructions 
1 part Algon + 3 parts water 
Cautions To Take When Using Algon
Although Algon is very safe to use, there are some surfaces on which we do not recommend the use of Algon.
These include –
Marble
Unfinished Zinc & Iron
Steel Surfaces
Galvanized Surfaces
Algon may temporarily discolour lead.
It is recommended that you should spot test all coloured paving flags.
Please spot test any materials not listed above as safe to use.
Algon will have a scorching effect on foliage and grass where it makes contact. This will not effect the rest of the plant, and roots will not suffer from incidental run-off during application.
For any further information, please visit our suppliers FAQ's –  https://algonorganics.co.uk/faq